The pictures you see on your website when you signed up are generated from the "Default Header". This is a very powerful tool, and this article will show you all the different things you can do with it.
How to Edit the Default Header


1. Login to Your Account - and then go to the WEB PAGES section. Click EDIT on any page.
-------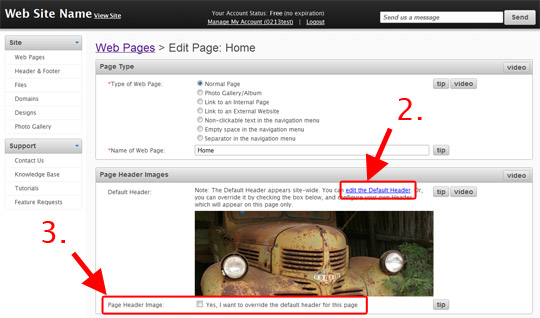 2. Edit the Default Header - The Default Header appears site wide. You can edit it here, but you can also deactivate it (see step 3) and replace it with something else. NOTE: Every design has its own Default Header. This means that when you change your design, a new Default Header will be applied and therefore if you would like to edit it, you will need to do so again. Edit Your Default Header Now.

3. Make a Page-Specific Image Header - Here, you can deactivate the Default Header (which is site wide) and add your own Header that will only appear on this page. Make Your Own Header Now.
----------




4. Add an Image, Make an Image Transitioner, or Add a Flash File - Once you've checked the box to override the Default Header, you'll have access to all these customization options. You can also just remove the Page Header Image for this specific page altogether.

How to Get Your Photos to Fit Correctly
You'll want to think of your Default Header like a picture frame. Every picture frame has fixed DIMENSIONS (width and height), and your goal is to fit your photo within it. If your photo is larger than the fixed size, some of it will not appear. Likewise if your photo is smaller than the frame, there will be an empty space.
When you upload your own photo, it is more than likely that it will not fit into the "frame" (or, fixed width and height dimensions - see secreenshot below) that we have established for your Default Header. Everyone's photos come in different sizes, so this would be impossible to do!
This is why we have conveniently provided a resize tool. The resize tool automatically provides you with a selection area that is the exact width and height of the Header "frame". You then have the ability to increase the size of your photo, and move the selection area, to grab the section of your photo that you want to appear in your Header (anything outside of the selection area WILL NOT appear). Once you are happy with your selection and click SAVE, your selection will be cropped and you'll have a perfect fit. That's all you need to do!
Changing the Dimensions of the Header - Now, while the size of a real picture frame can never be changed, we do give you the ability to adjust the size of your Header. This is controlled by the DIMENSIONS. So if you increase the size, just remember that you are increasing the size of your picture frame and all your photos will need to fit into this new size.
Note: If you decide to adjust the parameters, only change the HEIGHT, not the width (unless you are an advanced user).

The Transitioner: Add Text & Links to your Photos
Want to do something like this?
It's easy to add stylized text and links on top of your images in the animated image transitioner. We'll walk you through all how to do this in your control panel, and show you the different options.

1. Check the Image Details option.
2. Enter your text into the Editor, for each image.
3. Enter a URL if you would like to make the entire photo clickable (for example, it can lead to another page on your website).
4. Create a Text Link if you would prefer to just link your text, and not the entire photo.

The Transitioner: Add Prev/Next Buttons, Change the Transition Effect & More
1. Check the Advanced Settings.
2. Change the Transition Effect.
3. Other Options
Show "previous" and "next" buttons on your photos, which allows visitors to click through your slideshow.
Show "start/stop" buttons to allow visitors to control the slideshow.
The Dynamic Captions allows you to only show these features when a visitor hovers their cursor over the transitioner.