How to Create Your Logo & Slogan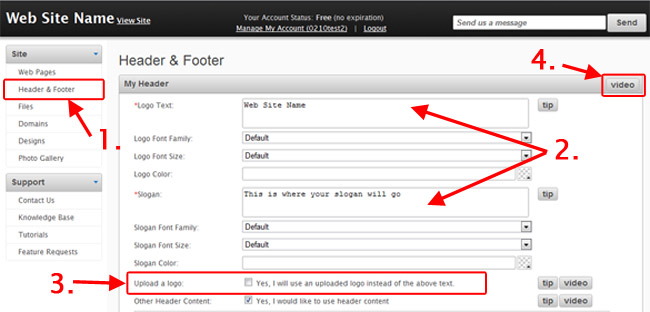 1. Login to Your Account
- and then go to the HEADER & FOOTER section
2. Edit your LOGO & SLOGAN TEXT
- Here, you can change the font size, font type, font color, and also utilize multiple lines (if your logo text is really long).
3. UPLOAD your own LOGO
- Already have a logo design? No problem,
Upload Your Logo Here
.
4. Need Help?
- Make use of the VIDEO buttons for every feature in IconoSites, to see a quick tutorial.
Watch Tutorial Videos in Your Control Panel
.
Need a Logo?
Want to get a professional logo instead of using logo text? No problem. Check out our article on How & Where to Get a Business Logo Design - Free & Cheap Options